For Hardcore Foot Fetish Fucking Phone Sex Call NOW 0909 460 2300
(Call cost 65p per minute + your phone company's access charge)
Welcome to our specialist foot fetish ladies
0909 460 2300 only 61p per minute!
(Call cost 65p per minute + your phone company's access charge)
Anne 45 from Cambridge
Call: 0909 460 2302
Text: 07441 915 098 or Click Here
Hi boys my name is Anne and I am 45 years old. I love my feet to be totally pampered by an adoring gentleman. I am so dirty when it comes to feet, sometimes I get my feet and grip on really hard to a soft cock until it becomes hard and throbbing in-between my toes. Of course my toes are beautifully pedicured and painted rose pink. If you want to hear more about my filthy encounters then just call me on 0909 460 2302 it's only 61p per minute!
(Call cost 65p per minute + your phone company's access charge)

Susan 30 from Nottingham
Call: 0909 460 2303
Text: 07441 915 098 or Click Here
Bend over bitch because I am going to stick my big toe up your arse and make you scream. I love making a man's bum sore with my fat little toes. I also like clasping my rounded toes around a hard pulsating cock until the thick creamy cum lands on my toes and then I make him lick it all off making sure that he gets the cum clean in-between my toes. I am a very dirty lady and the thought of hot sticky cream on my footsies really makes me go wild. Why not call me now for some extreme feet action, my number is 0909 460 2303.
(Call cost 65p per minute + your phone company's access charge)

Kym 42 from Birmingham
Call: 0909 460 2304
Text: 07441 915 098 or Click Here
Hi my name is Kym and I am very interested with all things to do with feet. I was 18 when I first started to get sexual feelings about my feet and what men could do to them. My first sexual experience with feet was when my boyfriend at the time started to pay very close attention to them and asked if he could paint my toe nails. This then gave me an indication that he wanted more, we ended up with him fingering my pussy with his feet and with me giving him a foot job. The sex was so explosive that my feet fascination has stayed with me ever since! Every Monday I go to my local beauty parlour and get my feet massaged and pedicured so they are always in pristine condition. Why not call me now and listen to me sucking on my toes? My number is 0909 460 2304. (Call cost 65p per minute + your phone company's access charge)


"Listen to me suck my toes!" Kym aged 42
call 0909 460 2304
(Call cost 65p per minute + your phone company's access charge)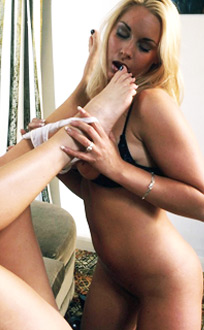 Lisa Aged 27 from Bath
Call: 0909 460 2305
Text: 07441 915 098 or Click Here
I'm Lisa aged 27 from Bath, I have had an issue with my feet all my life and that issue is that they smell quite alot! Men have commented and said the smell is quite feminine but I'm not too sure. Some men have liked the smell so much that they have even asked to worship my feet and suck on my toes! Eventually I got used to the idea and started offering my toes to as many men as possible and now I have special toe nights where my feet and pussy get the excitement and filth they so desperately need! Call me now for some smelly feet action! Call 0909 460 2305 now xxx.
(Call cost 65p per minute + your phone company's access charge)

We have so many ladies that want their feet to be used. Foot Fetishism is such a dirty fantasy and our ladies want you to take this to the extreme. Don't be shy because they are here 24/7 waiting for your call!

When it comes to foot phone sex then it really doesn't get any better than our gorgeous ladies who are hot and horny and just waiting to take your call.

We have all kinds of ladies for you to chat to but they all have one thing in common and that's there love of kinky foot sex. These ladies dont just like to have their feet worshipped they love it. Just imagining your hot mouth gently sucking on their toes makes them wet and ready for anything.

Our ladies love to be pleasured as they are wearing their silky stockings and high heeled shoes. These are real ladies with elegant tastes who want to share their experiences with you. Whether it be a foot wank you want or something naughtier such as letting them slide their toes somewhere very special then these are the ladies to call. They just love having their toes sucked and the feeling of your hot mouth around them.

At 61p per minute you really can't afford not to call. These ladies will fulfil every foot fantasy you have and more. They love to wrap there slender feet around a hard cock and wank slowly so their silky stocking heels just brush against your balls.

All our ladies really know how to take care of their prized assets with perfectly painted toes and gorgeous toe rings and ankle bracelets. And when it comes to footwear they really do know how to shop. High heels or ballet pumps maybe your things or even just a soft bare feet but whatever you want our ladies can oblige.

We hope you will call soon and please dont be shy these girls know everything there is to know about foot worship. They love their feet licking, sucking, tasting, kissing, sniffing and just about anything else you can think of. It maybe you like bare feet or stocking clad feet or maybe knee high or ankle socks but whatever it is you want you only have to ask. Our ladies just want to please you.

When it comes to foot worship these ladies love to be pampered. After a long hard day on their feet the thought of coming home and having someone to pamper them really hits the spot. Tell them all about how you would massage and caress their feet before moisturising them and tasting every delicious toe they have. They want you to treat them to something really special and will always give you something even more special in return. Let them tell you how they will brush their soft feet up and down the shaft of your hard cock. With gorgeous high arched soles our ladies gives the best foot wank around.

Our ladies also love toe sex. And with their imaginations and long slender toes you just know that they are going to make your spunk filled balls explode. Maybe you want to show these horny ladies what you can do with your feet. They love nothing more than feeling a foot rubbing up and down their soft wet pussies. Let your toes and heel touch their clit. These girls just love feet and can't get enough.

Our sexy foot sex ladies are all at home and waiting for you call. We have ladies of all ages and descriptions so you are sure to find someone that really makes your cock hard. These ladies really are the best there is. They are just waiting for your call so dont disappoint them and give them a call. Let them know exactly what you want to do to their beautiful sexy feet and let them tell you all about what they want to do with you.

At just 61p per minute for live fetish phone sex can you really afford not to call? Our hot and horny ladies and just waiting to hear from you. These ladies need a guy like you who appreciates their sexy feet. Pamper their gorgeous soft feet and make them feel like the queens they so deserve to be. Foot phone sex will never be the same again once you have called us.